The results are in for the International Supercomputing Conference High Performance (ISC) 2016 Student Cluster Competition, and we've analyzed them senseless.
First, the big headlines: the ever-plucky Team South Africa won their third ISC Student Cluster Competition championship last week at ISC'16. Team Tsinghua was following closely behind the South Africans but had to settle for second place. Team Shanghai finished in third, with Team USTC nipping at their heels from fourth place.
So that's who won. Now let's talk about how they won…
The first day of the competition (Monday) was consumed by HPL (LINPACK) and HPCC benchmark suite runs.
As disclosed in a previous blog, both Team HUST and Team Hamburg broke the existing student LINPACK record of 12.03 TFLOP/s. Team HUST smashed the record with a score of 12.57 TFLOP/s, and the Hamburgers came in second with 12.29.

On the HPCC front, Team USTC got off to a great start with a perfect score, grabbing all of the points possible on this task.
Teams Shanghai and Tsinghua were a bit behind with 88 and 74 per cent. All three of these teams were running similar configurations, with core counts in the 300-ish area. Tsinghua was running with more accelerators than the others; Shanghai didn't have any, and USTC sported two K80s. While this was a big win for USTC, HPCC counted only 10 per cent toward the final score.
Tuesday was a huge day. The teams had to complete three applications, two of them with two data sets – meaning the students had to turn in five results.
The first application was Graph500 with a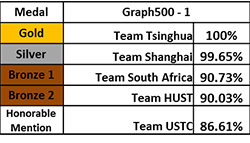 twist: the students had to write their own Graph500 algorithm and turn it in along with their results. The first data set was a total dogfight, with only .35 per cent separating the winner, Team Tsinghua, from second-place Team Shanghai.
Teams South Africa and HUST were locked into their own battle for the third spot, with the South Africans barely edging out the ASC16 champion for the finish. USTC was only four points out of the money on this one.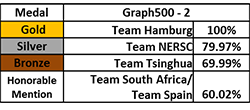 The second Graph500 data set was a different story. Team Hamburg streaked out of nowhere to finish with a perfect 100 per cent score. Team NERSC took down second place, their first appearance in the winner's circle, with Team Tsinghua taking third place. Teams South Africa and Spain tied for fourth – which marks the first time the ARM-fueled Spaniards have nailed down a top spot on an application task.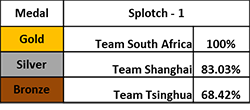 The next application up was Splotch, a ray-tracing code for cosmological simulations. This application definitely presented a challenge to the students; several teams had problems even finishing the two data sets.
This is where the power teams started to shine. Team South Africa topped all competitors with their stunning 100 per cent score, while Team Shanghai posted an 83 per cent score that was good enough for second place. Tsinghua was forced to settle for third.

The story on the second data set was nearly identical, with South Africa nailing another perfect 100, Shanghai taking second, and Tsinghua taking third place. A word of advice: When it comes to cosmological ray tracing simulations, don't mess with the South Africans.
The final application on Tuesday was WRF, a well-known weather forecasting and atmosphere modeling package.

USTC once again takes the top of the leader board with a 100 per cent score. Teams Tsinghua and South Africa battled hard for second place, with Tsinghua taking it by a few tenths of a point.
We revealed the results of the mystery application in a previous blog which is must reading for all cluster competition aficionados. Pak Lui put together a set of mystery tasks that forced the students to think on their feet and use all of their training and skills.
Teams were required to run two applications using the lowest peak power possible, while finishing the data set within one hour. Team USTC took the first application with a score of 100 per cent, and Team Hamburg notched another win by posting 100 per cent on the second application.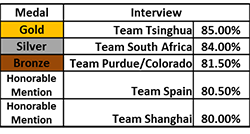 The final scored task in the ISC cluster competition is the interview. Each team is interviewed by several HPC experts who quiz the teams to see how well they know the applications, their hardware, and how to optimize the two. The interview score contributes 10 per cent toward the overall score for each team.
Team Tsinghua pulled out a narrow victory over the South Africans on the interview, while Purdue/Colorado edged out Team Spain for third place.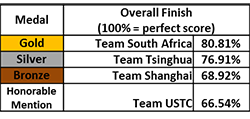 The final tabulated and audited results are in the chart on the left. Team South Africa takes home their third Overall Champion trophy with a score of 80.81 per cent. After scoring victories in their first two outings, Team South Africa finished in second place at ISC'15. They've returned to championship form with the win at ISC'16.
Team Tsinghua finished a close second, adding another trophy to their case back in Beijing. This team had a magical year in 2015, winning all three major competitions (ASC, ISC and SC), but streaks have to end sometime.
Team Shanghai finished in third place, after placing second at the ASC competition; I expect to see them on the winner's podium in the future. I also expect to see a lot more of Team USTC. They did a great job on some of the applications, but had just enough problems to keep them out of the top three spots. I think they could be the next breakout team.
That's it for the 2016 edition of the ISC High Performance Student Cluster Competition. I'd like to thank the sponsors, the HPC Advisory Council and the ISC, for helping me cover the competition.
Next up on the student cluster competition calendar is SC16 in November. As always, we'll be covering it like a bad rash, so stay tuned.
Posted In: Latest News, ISC 2016 Frankfurt
Tagged: supercomputing, HPC, HPC Advisory Council, ISC'16, ISC High Performance, Results, ISC 2016